Edwards: Mary Cheney Comment was "Appropriate"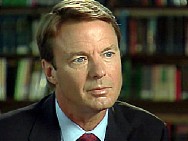 Edwards had a chance to apologize for the obvious low-blow comment on Dick Cheney's daughter during the Presidential debates; instead he attacked the vice-president.
ABC Video
or
News Report
.

John Edwards, the former Democratic VP nominee, was interviewed by George Stephanopoulos on ABC. George ran a clip of Mary Cheney calling Edwards use of her sexuality at the debates sleazy politics and this is how he responded:


"Let me say first, that I think that the vice president and his wife love their
daughter very much…I think that I what I said there was appropriate… I think
what's more important than all of that is watching what her father has done to
this country. It is not an accident that is he is unbelievably poorly thought
of… there's a reason for that. He is one of the architects of this disaster in
Iraq…people don't trust him…I wouldn't trust him."

A clip was then played of John Edwards claiming that President Bush is the worst president in his lifetime. (But I think he conveniently forgot about
Bill Clinton
)
Stephanopoulos: "You also said Bush is the worst president of our lifetime"
Stephanopoulos: [Is Bush] Worse than Nixon?
Edwards: "Absolutely"

Stephanopoulos: "But if he's worse than Richard Nixon should he be impeached?"
Edwards: [He dodged the question and started bashing bush again] However, Edwards said he would vote for the censure of the president if he were in the senate.